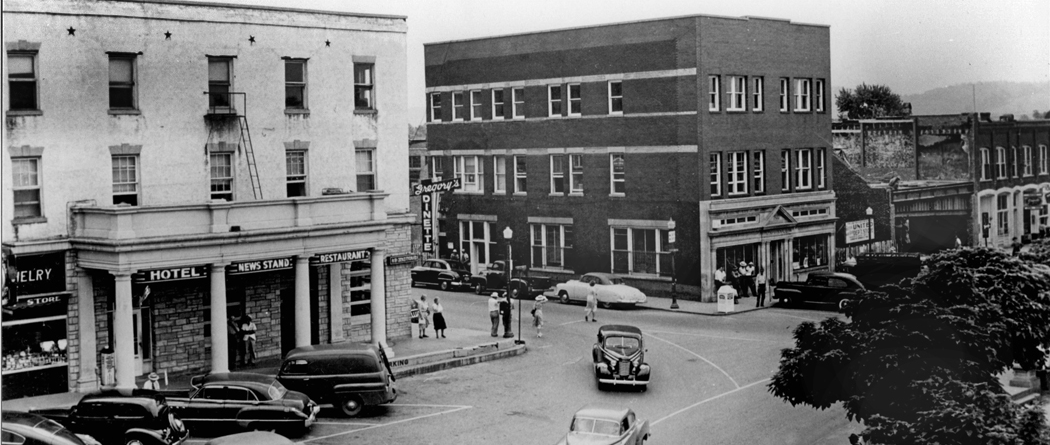 Serving Our Community 100+ Years
1920s
Citizens National Bank was chartered December 12, 1919 and opened on February 14, 1920 at a location on the  Public Square in downtown Somerset.
---
1970s
The bank's first branch location was built at the Somerset Plaza shopping center and opened for business in June 1972. This branch is called the Plaza Branch, and is located in front of Big Lots on Highway 27 in Somerset. 
In November 1974, the Main Office building moved to a newly constructed building, yet remained on the fountain square in Downtown Somerset since it was just across the street.
In October 1976, the Burnside Branch opened.
---
1980s
A new branch location was opened in October 1981 inside the Somerset Mall.
In April 1984, a new branch was opened on South Highway 27, which is primarily for quick drive through service. This location is commonly referred to as the Highway 27 branch. 
In 1985, plans were made for the conversion to an in-house computer system, with the final conversion taking place in early 1986.
Also in 1986, the former United Department Store in downtown Somerset was purchased to provide room for a much-needed expansion program. This structure was completely renovated and renamed the Coffman Building, which was occupied in March 1987. This building houses several operational departments of the bank, as well as a complete fitness center for the bank's personnel and a meeting room.
---
1990s
In December 1997, Advisory Boards for each branch were established. The Boards are made up of local business people who will help promote Citizens National Bank.
On December 7, 1998, the Waitsboro Branch opened across from the Somerset Mall . To date, this was the bank's largest branch location in square footage.
Due to the widening of Highway 27, the bank's Burnside Branch was demolished and the staff worked out of a mobile unit from February 1, 1999 until the new Burnside Branch opened on October 4, 1999.
On December 1, 1999, the bank opened the Nancy Branch. 
Citizens National Bank was granted trust powers in 1999 and a new Trust/Asset Management Department was established. The department is located in the former Gover Building on North Maple Street, next to the Main Office.
---
2000s
In April 2001, a new branch was opened in Science Hill, giving the bank 8 locations to serve Pulaski County. 
In 2008, Donald E. Bloomer became the President & CEO of Citizens National Bank. Mr. Bloomer had previously been Senior Vice President and Cashier, having more than 30 years experience at the bank. 
In 2009, the bank's first location outside of Pulaski County opened in Monticello. The location began as a Loan Production Office, but success and customer demand led to its conversion to a full service branch in 2010.
---
2010s
In 2010, Citizens National Bank adopted a new permanent slogan, "Moving Forward Together." As a community bank, we are committed to promoting economic progress and growth. This slogan represents the spirit of the bank's involvement and partnership in the communities we serve.
At the end of 2011, the Somerset Mall Branch was consolidated into the Waitsboro Branch across the street.
In 2014, the bank expanded outside of Pulaski County yet again by adding locations in both Russell County and Jessamine County. The Russell County branch began as a Loan Production Office but due to customer demand, the branch became full service just a few months later. The branch in Jessamine County is located in a highly trafficked commercial area along Highway 27. Although this location is further away, it has opened doors into a commercially diverse market that has proven profitable.
The Science Hill branch moved into the building across the street from their current location in 2017. As our competitors moved out of that community, we further committed to serving the people of Science Hill. Our larger building allows us the room to continue steady growth.
The Russell Springs branch has also grown at a fast pace, which didn't allow it to remain at its first location. A new building was constructed at the corner of Highway 127 and Lakeway Drive in 2018. The new location is along the most highly trafficked road in the county.
---
2020s
Citizens National Bank has been a keystone business on the Fountain Square in Pulaski County for a century, turning 100 years old on February 14, 2020.
Today, the bank has 10 locations, 22 ATMS, and a wealth management department. The institution's growth has all occurred organically and can be attributed to to our loyal customers and service minded employees. CNB has grown without any acquisitions or mergers, all while remaining a locally-owned financial institution. This is practically unheard of amongst today's financial institutions. CNB truly is a community bank that believes in giving back to the markets we serve.